During the week previous to Easter we had been on  the alert round the coast for a landing of arms. Perhaps we had not very much faith in it. We had, had such alarms before, but there was something more substantial in this one.
At any rate, whatever our beliefs, we found ourselves face to face with events on Good Friday, 21st April. At 2.30 a.m. on that morning a farmer named John McCarthy left his house, near Banna Strand, to go to a holy well along the shore, which forms a  splendid stretch of  firm sand for some four or five miles. He left at this early hour to escape human observation. He got  there without incident, but his return journey was destined to turn out probably the most eventful episode in his life. When near his home he saw a small boat floating on the tide and four oars in the sea. He caught the boat and pulled it in. In the bottom of it he found a dagger. After pulling the boat up as far as he could, he went away towards his house. On the way, in the firm sand, he noticed the footsteps of three men going in that direction, too, and a short distance further on that the sand had been freshly stirred. Pushing some of it aside with his foot, he unearthed a square tin, tied up with string. It was very heavy for its size ; and what must have been his astonishment when, on opening it, he found it full of revolver ammunition! 900 rounds were afterwards counted. However, being rather a sensible man, he went home and sent for a neighbour. Together they pulled the boat up out of the reach of the tide. Their conversation is not recorded, but it must have been worth hearing. Again they returned towards his house, and this time poor McCarthy's amazement must have reached the climax. He found his little daughter (aged 6) playing in the sand-hills with three large Mauser revolvers, almost as big as herself! and fully loaded, too! But fortunately the sand had clogged them. By her side was a little black satchel in which were strange things they had never seen before. The revolvers must have put McCarthy in mind of the police, and he sent his neighbour off to Ardfert Police Barracks to alarm the local sergeant. Sergeant Hearn at once set off, at about 8.30 a.m. with Constable Larke for the scene. After due examination of all that had been found, they set out in search of further treasure, and were rewarded by finding two more bags and three life-belts buried in the sand. More strange things were in these bags, all wet with the sea, and a closer inspection showed that many of them came originally at any rate from Berlin. 
Casement's boat, outside the RIC barracks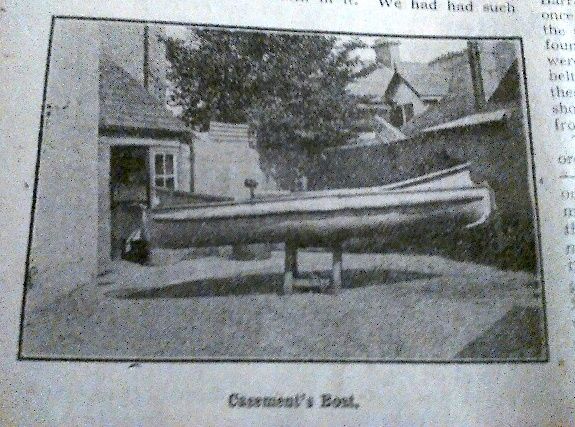 Casements boat, an image used in the trial proceedings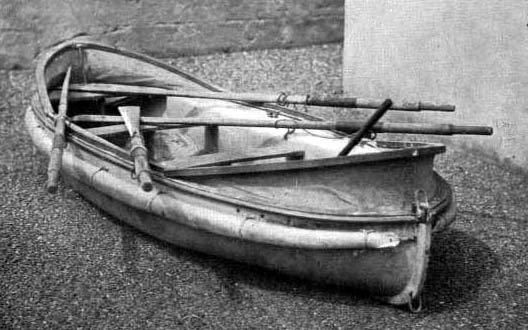 The Sergeant saw he was in for some out of the ordinary this time, and proceeded to collect all spoils-to be conveyed by cart to the barracks. He was well on the way when he received tidings of three strange men being seen in the vicinity that morning, and that they were believed to be still about. To go back for a moment, a servant girl, named Molly Gorman, had seen three strange men pass her master's house at 4.30 a.m., going along the road from the Strand towards Ardfert. She only saw the face of one, a tall, dark man, but she would know him again-it was not the sort of face she saw every day.
  So the Sergeant left his precious load in charge of another Constable, and made off on his bicycle to the Barracks. He must be armed for the work ahead. After sending the inevitable wires, he took Constable Reilly with him, and they set out on the long search towards the shore. There are many old forts, or raths, in this part, but one especially afforded splendid cover to fugitives. It is almost surrounded by a dry moat, perhaps 12 feet deep and covered with overgrowth. It is known as McKenna's fort. Constable Reilly proceeded towards the fort, and when on the top of the mound he saw a men's head and shoulders appear over the opposite side. He went cautiously across, and as soon as the man turned towards him covered him with his rifle. At the Constable's command he came out towards him, and when within a few paces the Constable called on him to stand, or he'd fire." That's a nice way to treat an English traveler," said the strange man. " I'm not armed, and I won't do you any harm." The constable managed, with difficulty, to blow his whistle, which brought up Sergeant Hearn. In answer to the latter's questions, the stranger gave his name as Richard Morton, of Denha, Buckingham. He said that he was author and wrote a life of St. Brendan, and that he had come down there from Dublin two days previously. At this time they were expecting the other two to emerge from the fort, but they were not there; and, thinking " a bird in the hand worth two in the bush," they took their captive off towards Ardfert. 
McKenna's Fort ( a contemporary photo from the evidence)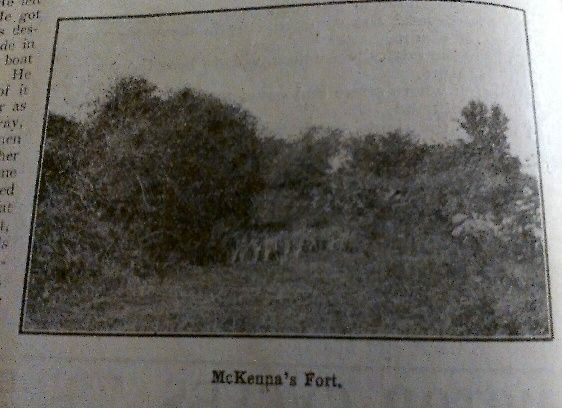 Amongst others drawn by curiosity to see what was going on was a bright boy of thirteen or fourteen, named Martin Collins. As he watched the police and the stranger go along the road, he saw the latter deliberately drop a piece of paper from under his coat. He picked it up and gave it over to Constable Reilly, remarking " there was something about arms and ammunition on it." It turned out to be a cypher code, and was, of course, a most damning piece of evidence connecting the captive with the projected Rebellion. After being identified by Molly Gorman as the man she had seen that morning, he was landed without further incident in Ardfert Police Barracks, where he appeared glad of the hard comfort of the  hard lock-up. His property was then carefully gone through, in the Sergeant's office, to find a clue to his identity.But none could be found. Who was he ?  Evidently someone  more distinguished than is usually found in a police lock-up. Sergeant Hearn hit the nail on the head when, putting his finger on a rather meagre description of Sir Roger Casement, he said, " I think, Sir, that's the man." 
Here we'll leave him for the present. What had become of the other two men ? A party of police had arrived from Tralee, and were scouring the county for them. Three overcoats were found, wet with the sea, and in the pocket of one of them a ticket from Berlin to Wilhelmshaven, dated April 12th ; also the remains of a meal  of black bread and German sausage. But for the two men they searched in vain, for it subsequently transpired that they had made in a fairly direct line for Tralee, where they arrived about 8 a.m. Arriving there, placards of the  "Spark" and "Irish Volunteer" caught their eye. Here was a sure refuge. They entered and inquired for the Commandant of I.V. Shortly after he came in the person of Austin Stack, with his Staff . A conference was held in the news-vendor's parlour. Sir Roger Casement must be brought in. A motor car was hired, and Austin Stack, accompanied by Cornelius Collins and one of the two fugitives, set out at about 11 a.m. Car I.N. 405 had an adventurous journey. Through Ardfert it turned down the direct road to Banna Strand, but at the end of the road Sergeant Crowley, from Ballyheigue, met them. He searched the car and took their names. One stranger gave his name of David Mulcahy, of 34 Mountjoy Street, Dublin. It turned and went off along the road to Ballyheigue. Sergeant Crowley followed, and twice more they were questioned and searched. No good could be done here, so they made off along the mouth of the Shannon to Causeway. The police were again waiting for them there,  and they were subjected to a further search. Out of temper, they made direct for home. But on arrival in Tralee, Constable Neazer was curious to know all a bout them, and he noticed there were only two passengers, where three had gone out, Mulcahy  had disappeared.
By this time  the story of the landing and arrest was known, and Stack and Collins were put out of harm's way by Head-Constable Kearney, in Tralee Police Barracks. They were joined there shortly after by the man they had been looking for, who arrived under escort from Ardfert. Whilst all this was taking place on land, another event was taking place at sea, which could be better told by our Patrol boats off the coast. At about 6 p.m. on the 20th  a suspicious vessel arrived in Tralee Bay,  and apparently came to anchor off Maharee Islands about 11 p.m. She had been spotted by the police and coastguards,  but was still there the next morning. At about 11 a.m. a Patrol boat was seen coming from the direction of Loop Head, and the suspicious vessel made off at full speed round Sibyll Head. It is now well known how she was chased by " H.M.S. Bluebell," and eventually blew herself up at about 6 p.m. off Daunt's Rock. She was the "Aud," with arms and ammunition for the Sinn Feiners; but, to her own undoing, had arrived at least 24 hours before she was  expected.
All was not yet over in Tralee. On that Good Friday night the police lived in expectation of events. The Volunteers were out in considerable excitement. Their leader and Sir R Casement were in the barracks. Would they attempt a rescue ? Extra police were gradually arriving. Military were asked for from Queenstown and arrived at 5 a.m. next morning. No attempt had been made so far, and the crisis was then probably over ; but we had an anxious night of it.
By the 10.30 a.m. train on Saturday  Sir R. Casement was got safely to away  to Dublin. His two confederates were still at large, but not  both of them for long. Sergeant Brennan, of Causeway, got a hint of a stranger being seen about that morning, and set his men motion. After an all-day search, Constable Carter came up with his men near Ballymacwhim Castle, about 6 p.m. " He was just knocking around," he explained, and as this was not considered quite satisfactory, his, " knocking around " ended in Abbeydorney Police Barracks. There he remained as Mr Mulcahy till the next day, when he revealed his identity as Daniel Julian Baily, of the German Irish Brigade. He had land at Banna Strand with Sir R. Casement and Robert Monteith, and they had left Wilhelmshaven on board U20 on April 12th. The U boat had brought them right up to the Muckenagh Rock, a few miles from the shore, and then put them off in a small boat, in which they reached the shore after being upset in the surf. He had further wonderful stories to tell of his adventures in Germany after being taken prisoner ; of his instruction in Berlin in the use of explosives, and of the Wilson liner that was to land the arms and ammunition at Fenit Pier. Probably he knew when he told the story that the whole plan had miscarried.
Ballymacaquim Castle (from the RIC evidence)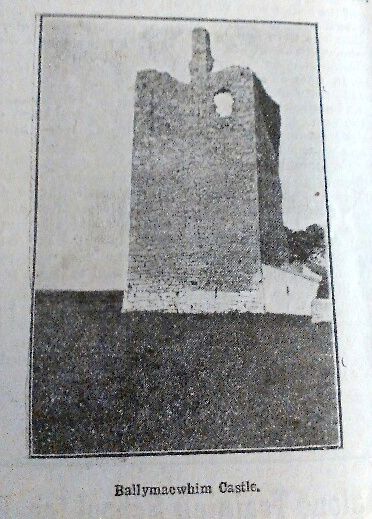 Monteith alone escaped, and is still  " on the run,"  On the same Good Friday night  two motor cars  left Limerick with orders to pick up five passengers at Killarney Railway Station, and act under  their instructions. They arrived there about 9 p.m. One car took three of them through Killorglin, apparently en route for Cahirciveen by the N.road of the peninsula. A short distance out of Killorglin it took a wrong turn, and, running over Ballykissane Pier, ended its career in the sea. The three passengers were drowned-only the driver escaped. The second car with the other two arrived at Cahirciveen by the S. road through Waterville after midnight. It waited there for some time, and then returned in the night, dropping the two passengers en route.  What part in the plot were these to have played ? Two of the bodies were recovered ; one was  a dismissed cable clerk and wireless operator from Valentia. Pliers and hatchets were found. It seems reasonable to infer that they were to cut the cables and perhaps set up a wireless installation.
In spite of all these mishaps, Sinn Feiners from distant parts mobilised in Tralee on Easter Sunday ; but it was a dispirited army, and, to add to their discomfiture, the rain came down in torrents and washed them out of their encampment in the Sports Field. They broke up and returned home. From that on, until most of them finally laid down their arms on May 6th, there were many rumours and alarms-and the police knew little rest night or day.
In Stack's lodgings and on his person after his arrest were found plans of  " The Rising " and other interesting documents which can leave no doubt as to the intentions of Sinn Feiners. Largely on their evidence he has been sentenced by Courtmartial to penal servitude for life.
Amongst the contents of Casement's bags, found in the sand, were complete maps of Ireland (printed in Germany), flash lamps and field glasses ; also a large green flag with some city arms in the centre (believed Hamburg) and the motto :
" Urbs antiqua fuit studusque asperrima belli. "
Ref :- R.I.C. Magazine, July, 1916.