William H Cooke joined the RIC from Kilkenny on the 4th November 1919, aged 23.  His father was an RIC pensioner (William Cooke 39872, retired June 1904), and he had 2 brothers (Martin and Denis) and 3 sisters.  Upon completion of training he was sent to West Cork, and by 1921 he was stationed in Carrigadrohid.
Prior to joining the police William had served as a Stoker in a Royal Navy Minesweeper in the North Sea (service from 11 Nov 1916 to 26 June 1919), and after hostilities ended was in the escort to a number of German U-boats being taken to Palermo, Sicily. He appears here in 1917:
At around the same time as William was starting his police career in Cork, his brother Martin had taken a different path.  Martin was a republican, and a committed one.  He appears second row from back, 4th from left in a photograph of the Hunger Strikers in Mountjoy Jail, April 1920.
William's police record shows no evidence of any favourable records, indeed only one fine of 10/- appears, nonetheless following disbandment on 9th March 1922 he was selected for service in the Palestine Gendarmerie, which he joined on 30th March that year as Constable No. 732. 
He served in Jerusalem, Haifa, Jaffa, Nablus and Nazareth, leaving the force on its reorganisation on 1 May 1926 with the rank of Corporal.
William (left) with unknown P.G. in barracks
William, mounted.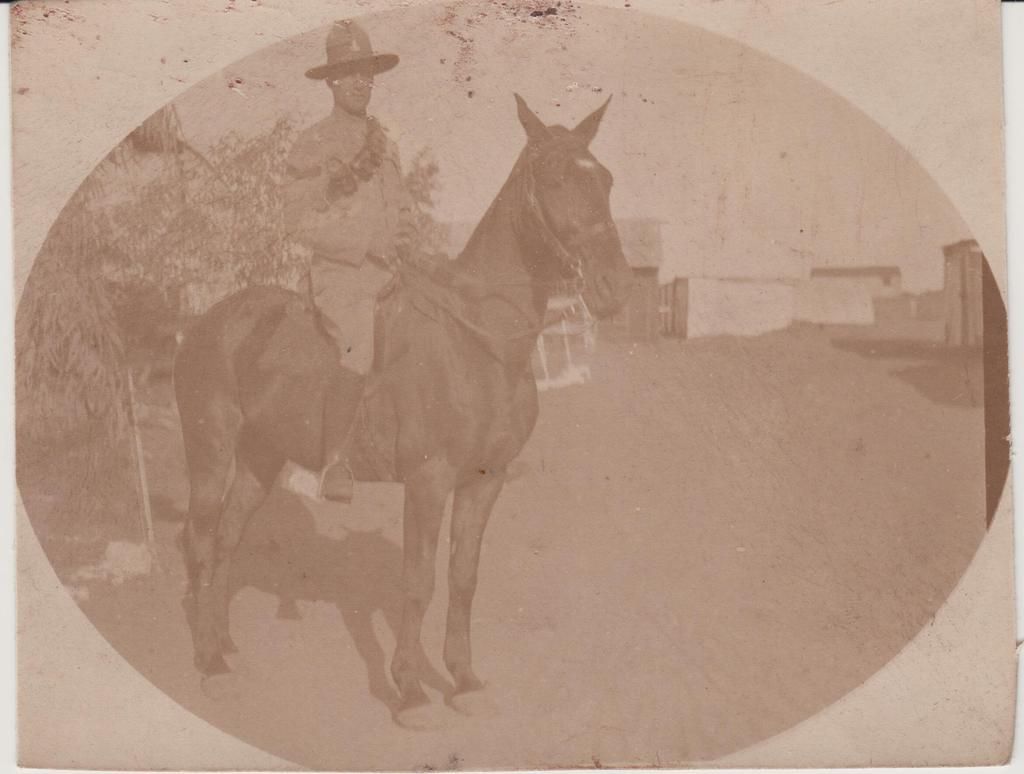 Nablus Gendarmerie barracks - a very early photograph
Unidentified British Gendarmes
After Palestine, William continued his policing career, now serving with the British South Africa Police (B.S.A.P.) Regimental No. 2711,  in Salisbury, Rhodesia (now Harare, Zimbabwe). His records indicate he joined from 14 August 1925, however this is at odds with his PG service and date of reorganisation ( - I suspect that the BSAP data is incorrect by one year)
He was for many years Steward at the Salisbury Canteen and Mess. He was awarded the Colonial Long Service Medal at the BSAP Depot in 1941, by the Chief Justice Sir Fraser Russell.
L/2/Sgt Cooke was discharged on medical grounds in June 1945 and died 6 months later. He was married, but had no children.
William in Salisbury, 1941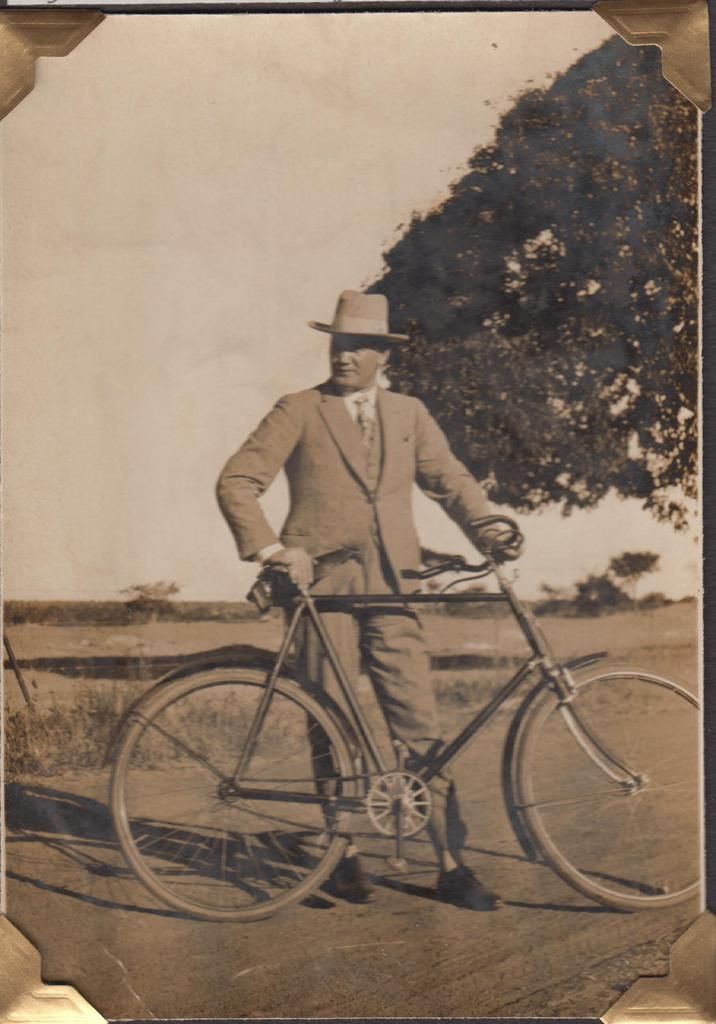 BSAP Salisbury 20th Nov 1943.  William on far right, second row (with medal ribbons)
He was buried in Salisbury, Rhodesia. His grave has no memorial stone.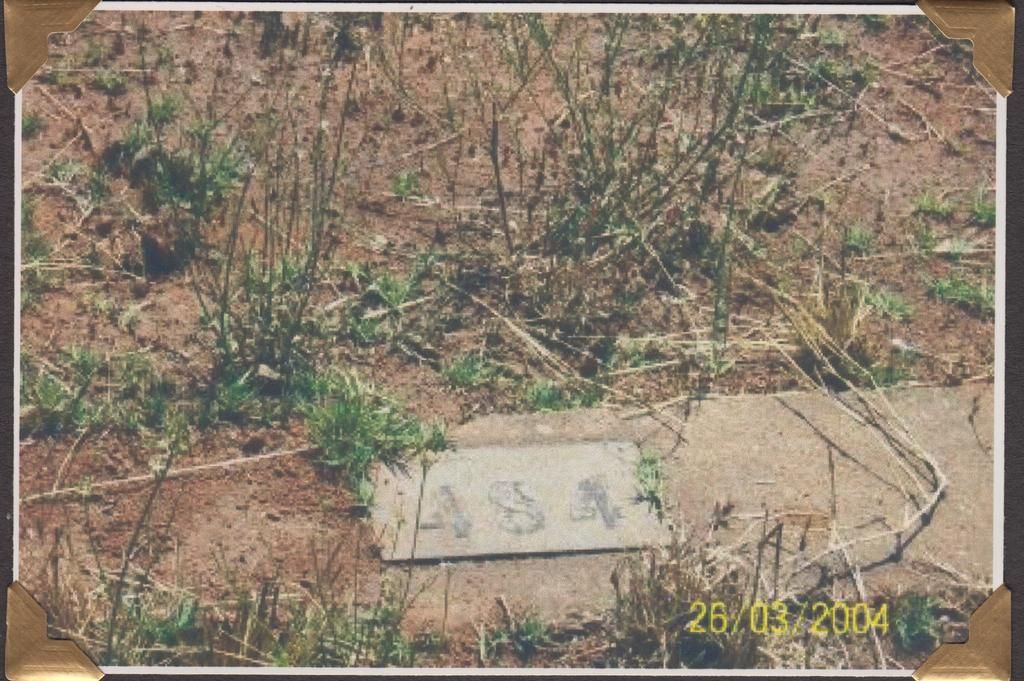 Whilst in the BSAP his great friend was a Sergeant John Territt.  In March 1946 John was known to be 'home on leave pending discharge' in Belfast; I believe this was the same John Territt who also served in the RIC and British Gendarmerie along with Michael Higgins (
see here
).  
R.I.C. Constable Territt 67266 was a Tyrone man who joined from Armagh, I think he was also from police family and he was made Temp. Sgt in Jan 1921. Both he and William joined the Gendarmerie within a day of each other, John with B.G. No. 391. He is pictured 4th from right, second row, in the BSAP photograph and is also identified in forum member PalestineGendarmerie's photo from the Martin Higgins collection here -
It is tempting to think that William Cooke, John Territt and Michael Higgins all knew each other in Palestine. 
- with thanks to William Cookes great nephew, Richard Fitzgerald, for the images and information.