With the focus in the United Kingdom this weekend being very much on the Diamond Jubilee celebrations of H.M. Queen Elizabeth; it is perhaps appropriate that we reflect on events of 115 years ago, and the part the RIC played in honouring sixty years of the Reign of Queen Victoria.
It was raised in the Houses of Parliament, and agreed, that a representation of the Royal Irish Constabulary be sent to London to take part in the Jubilee Procession. This honour was to fall on the Mounted Troop and 27 men were selected from Dublin, Belfast, Cork, Limerick and Derry - of "splendid physique and superior horsemanship" - to represent the force in the celebrations. They were brought together in the Depot for training and a photograph exists of the Troop prior to them embarking for England -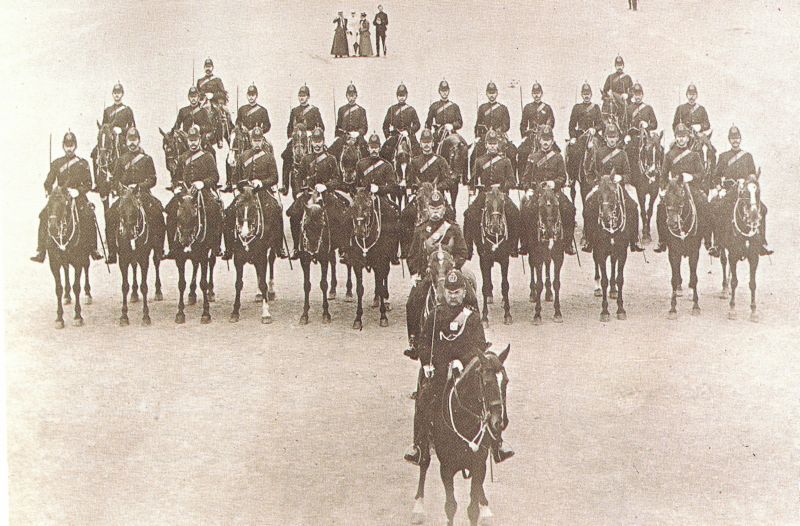 Mounted Troop - 19 June 1897 Irish Times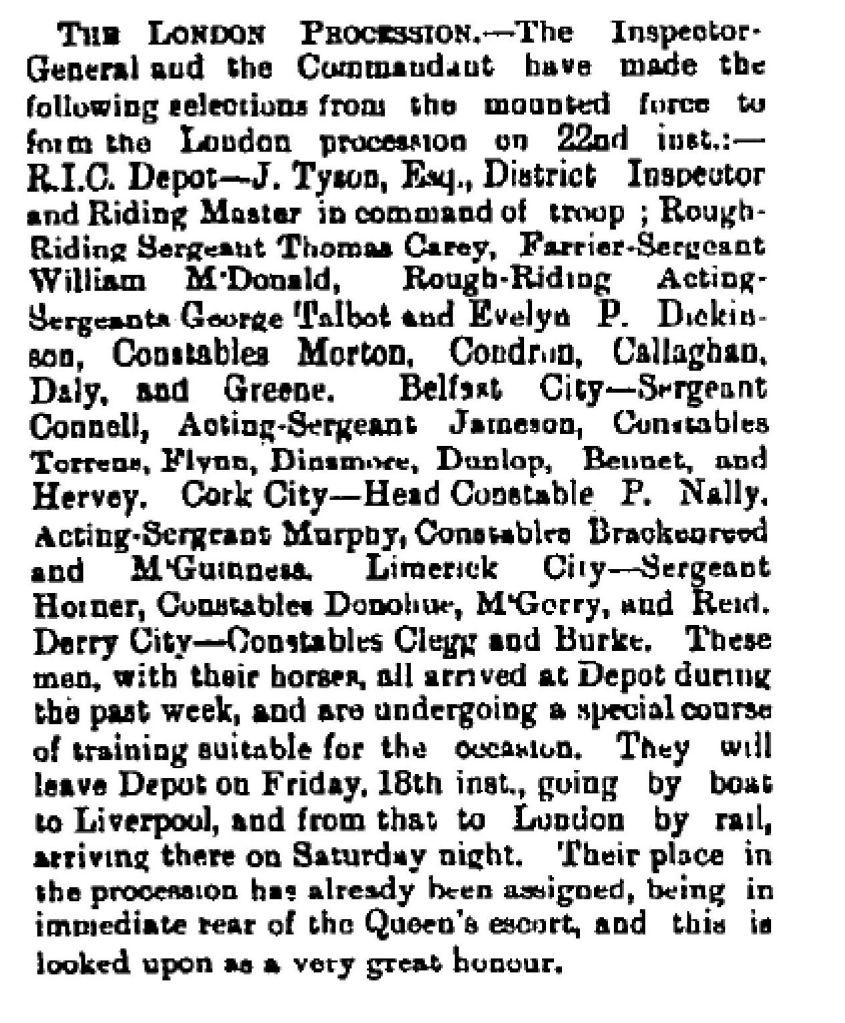 The following extracts are from a specially produced volume of the London Gazette; the volume details every aspect of the daily events, order of procession, dignitaries and honours bestowed.
London Gazette Extraordinary, 14 March 1898, No.26947
"On Sunday, June 20th 1897, The Queen attained the 60th Anniversary of Her Majesty's Reign, this being at the same time the longest Reign recorded in the History of these Realms."
Tuesday 22 June 1897 - HM Procession from Buckingham Palace to St Paul's


The Queen left the Grand Entrance of Buckingham Palace at 11.15 o'clock, in State, and drove through London for the purpose of seeing Her People and of receiving their Congratulations on having attained the Sixtieth Anniversary of Her Majesty's Reign.
The RIC Mounted Troop had a place of honour, forming the escort immediately behind the Queen's carriage, following the rear echelon of the 2/Life Guards.
This sketch was one of several made that day, of those taking part on the procession -
Friday 25 June 1897 - Windsor Castle

"The Queen inspected in the Quadrangle the two officers and 27 men of the Irish Constabulary who had taken part in the Jubilee Procession on the 22nd inst."
"The officers, Mr. Singleton, Commandant, and Mr. Tyson were presented to Her Majesty by Major-General Sir John McNeill, K.C.B., K.C.M.G., V.C., and The Queen spoke a few words to them."
Friday 13 August 1897


"The Queen today held a private Investiture of the Order of the Bath."
"The following Knights Commanders were severally introduced into The Queen's presence, attended by the Officer of the Order carrying the Insignia, when Her Majesty conferred u[pon them the Order of Knighthood, and invested them with the Riband and Badge of the respective divisions of the Second Class of the Order into which they have been admitted, and affixed the Star to their left breast, viz:-
Sir Andrew Reed, Inspector-General, Royal Irish Constabulary. "
Celebrations in Ireland


The force also made their own local celebrations, throughout Ireland and especially at Depot