The Snider carbine (Irish Constabulary pattern) was introduced into the force in late 1867, following on from the short-lived Westley Richards 'Monkey Tail' carbine.  The Fenian disturbances of 1866, culminating in the failed 'Fenian Rising' of 5th March 1867, saw the authorities replacing the Enfield muzzle loading percussion carbine with breech-loading variants.  It would appear that the distribution of the new Snider carbine conversion was completed by 1869.
MkII** Irish Constabulary pattern
Constabulary Carbine Mark II** P56
1867, Conversion from Rifle, Short, P56 for Royal Irish Constabulary
Cartridge: .67 Snider
Length: 41.1 in
Weight: 7lb 5 oz
Barrel: 22.5 in
Muzzle Velocity: 1020 fps
Cupped hammer face, Sword bar. Two barrel bands. Stock stops 1,4" from muzzle
Sling swivels on upper barrel band and butt stock. Brass triggerguard. Stamped II** on receiver.
Introduced July 1867

Mark III
as above but with flat hammer face, and spring loaded locking latch on left side of breech block.
Rear sight graduated to 900 yds.
Introduced January 1869

By the 7th December 1867 the Westley Richards carbine had been overtaken by the Snider action - another conversion of the Enfield P56 musket. A Circular to the force from the Inspector General of this date confirms that the Snider was already, or in the process of, being issued to the force.  The Snider MkII** Irish Constabulary pattern was introduced (as per list of changes) in July 1867 and I suspect was therefore distribution started in the summer or autumn of 1867.
At around the same period, newspaper reports indicate that the Snider was being delivered.  It is not clear what arms were being returned; I had always assumed it was the old muzzle loading Enfields but that assumption must now be in doubt.
Irish Times 11 December 1867
And so it continued through January 1868.
Irish Times 6 January 1868
Kings County Chronicle 15 January 1868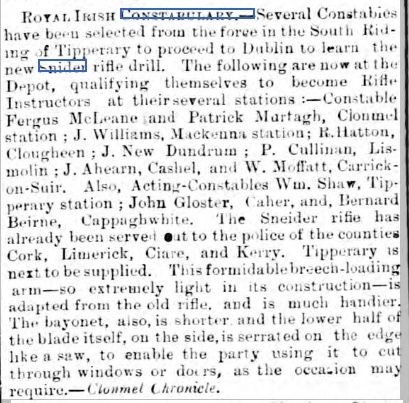 Saunders NewsLetter 15 January 1868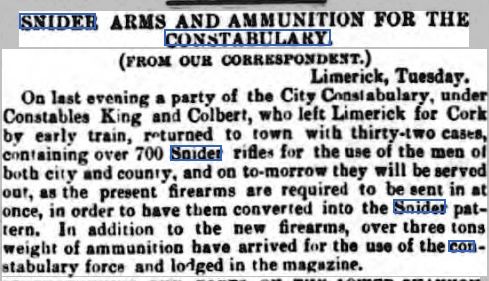 Belfast NewsLetter 22 February 1869
Coleraine gets the new Snider carbine